WALHALLA COMMUNITY DATA
New Resident Resources for Walhalla:

https://www.inmyarea.com/internet/58282/providers
https://www.inmyarea.com/internet/north-dakota

Public Notices:

Currently none

Government:
Pembina County Resource Guide

City of Walhalla
Melissa Gapp, City Auditor
PO Box 318
1103 Central Avenue
Walhalla, ND 58282
Ph (701) 549-3176
Fax (701) 549-2410
E-Mail




City of Walhalla Job Application

2022 Water Quality Report

Distance to other cites:
Winnipeg 95 mi
Grand Forks 100 mi
Fargo 180 mi
Minot 200 mi
Bismarck 409 mi
Chicago 837 mi
Population in 2000 census:
1,057 (city)
8,585 (county)
Transportation
Highways Serving Area:
Federal: I-29 (30 miles East)
State: ND-32

Railroads
Burlington Northern Railroad
Trains per day: 1
Length of time goods in transit to:
Chicago: 3rd morning delivery for carload lots.
Minneapolis: 2nd morning delivery for carload lots.


Motor Freight Carriers
Twin City Freight (1 truck per day)
UPS (1 truck per day)
Midwest Motor Carrier
Federal Express

Length of time goods in transit:
Chicago: 2 days
Seattle: 2 days
Winnipeg: 1 day
New Orleans: 2 days
Minneapolis: 1 day

Air
Nearest Airport: Walhalla
Runway length: 3,400'
Types of surface: Paved

Municipal: yes
Distance and direction from city: 1 mile N
Commercial use: No
Labor:
Seasonal employment in construction industry.

Agricultural background of most workers creates increased mechanical ability, excellent trainability, positive motivation toward work, superior productivity, high degree of self-reliance, low turnover and absenteeism.

Workers generally have a high average of education level and excellent record in the U.S. Armed Forces qualification tests.
REGIONAL SETTING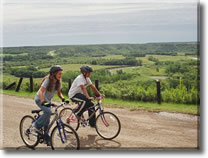 Walhalla, the center of the Pembina Hills, is located in northwestern Pembina County in the extreme northeastern part of North Dakota. It is approximately 66 miles south and 34 miles west of Winnipeg, Manitoba, Canada and approximately 66 miles north and 34 miles west of Grand Forks, ND. The city is 5 miles south of the Canadian border and 30 miles west of Minnesota; is served by ND State Highway No. 32, County Highway No. 55 and by Burlington Northern Railroad. Walhalla serves as a trade center of western Pembina and northeastern Cavalier Counties. It is a residential center and serves as an outlet for the agricultural and manufacturing products produced in the area.
PO Box 318

|

Walhalla, ND 58282




© Copyright City of Walhalla, ND. All rights reserved. All images, brands, and logos are the property of their respective owners.