RENDEZVOUS REGION SCENIC BACKWAY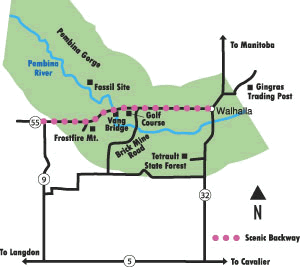 (11.5 miles)
This backway located in northeast North Dakota is a special place steeped in history, with natural resources, recreation, scenic beauty and culture. Winding along the bends of the Pembina River you can enjoy the panorama of the Pembina Gorge and enjoy the recreational, historical and natural scenery opportunities of the area.
LOCATION
From one mile east of Walhalla west on Highway 32 and Highway 55 ending at Vang.
TOP POINTS OF INTEREST
Gingras Trading Post State Historic Site - This historic site preserves the 1840s home and trading post of Métis legislator and businessman Antoine Blanc Gingras. Interpretive panels and exhibits about Gingras, Métis heritage and the fur trade are located in the restored house.
Tetrault Woods State Forest - This 432 acre forest, established in 1970 preserves a piece of the woodlands common to Pembina Gorge.
Pembina Gorge and Pembina River - The Pembina Gorge encompasses the largest uninterrupted block of woodlands in North Dakota, and the longest segment of unaltered river valley in the state. Canoe and Kaya access docks are located at Vang Bridge, Brickmine Bridge and Riverside Park for easy access to the Pembina River.
Scenic Overlook – Masonic Scenic Overlook and Tetrault Woods Forest Scenic Overlook provide a breathtaking view of the Pembina Gorge and Pembina River, offering visiting picnic and view areas, complete with viewfinders.
Frost Fire Mountain – No matter the season, Frost Fire Mountain has something to offer. During the winter months ski and snowboard enthusiasts enjoy running down the mountain and relaxing in the lodge. While in the summer, families are drawn to the amphitheater to enjoy musical theater classics. For more information go to http://www.frostfireskiarea.com
Golf Course – This nine hole golf course offers family fun on the fairway and delicious meals in the clubhouse, all with the stunning Pembina Gorge as a backdrop.
Prehistoric Fossil Site – At this site a road project accidentally exposed the fossilized remains of a large prehistoric marine reptile called a mosasaur. Today interpretive signs talk about this amazing creature and the geology of the region.
PO Box 318

|

Walhalla, ND 58282




© Copyright City of Walhalla, ND. All rights reserved. All images, brands, and logos are the property of their respective owners.